Posted by Jake Finkel on July 31, 2023
Crucial Reminders About California's Warehouse Quota Bill (AB 701)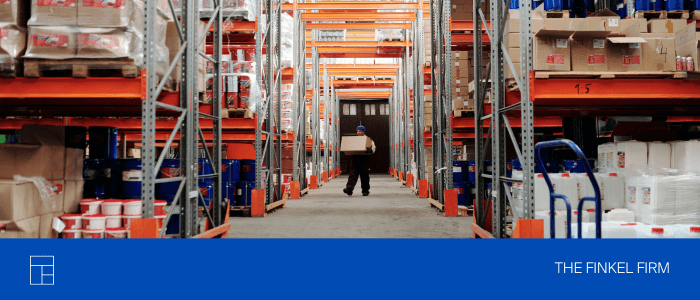 Recently, a new law was passed in Washington that regulates how employers can use production quotas at warehouse distribution centers. This law is the same as Assembly Bill 701, which was passed in California two years ago. Because AB 701 is over one year old, the following are some crucial reminders about it.
What is AB 701?
AB 701 is a law that regulates how certain warehouses can use productivity quotas. AB 701 created 13 new sections of the Labor Code regulating how warehouse distribution centers in California use quotas.
Which Employers are Covered Under AB 701?
The following are the employers covered under AB 701;
Those with at least one hundred workers at a single WDC

Those with at least one thousand employers at one or more WDCs in the state
If an employer gets their workers from an outside staffing agency, that employer may also be covered under AB 701 if they control the terms and conditions of employment of those workers.
What Notices Must Employers Give to Employees?
According to Assembly Bill 701, covered employers are required to provide employees with the following notices;
The quota an employee is subjected to;

The number of job duties an employee is to perform or materials they are to handle or produce;

How much time the employee has to meet the quota; and

Any potential adverse employment actions that could result if the worker does not meet the quota.
Quotas Employers are Not Required To Meet
AB 701 does not forbid employers from using quotas, but it places certain limits on quotas. First, an employee is not required to meet a quota if it infringes on their meal or rest breaks. A worker is not required to meet a quota if it prevents them from using bathroom facilities or prevents compliance with occupational health and safety laws. 
Second, it is against the law for an employer to use a quota that is so high that if a worker exercises the rights mentioned above, they will fail to meet the quota. Such a quota indirectly prevents a worker from exercising their rights.
Additionally, it is against the law for employers to take adverse employment actions against employees for failing to meet quotas that were not disclosed to them.
What Legal Options Do Employees Have When Employers Violate AB 701?
After requesting a written statement that describes the quotas you are subject to and information about your performance of a quota (if available), and you find that the information shows your employer is violating AB 701, you can file a complaint or lawsuit, either individually or through the Private Attorneys General Act (PAGA). You can also file a complaint with the employer, the California Division of Occupational Safety and Health, or the California Labor Commissioner.
In conclusion, it is vital to note that employers are prohibited from retaliating against employees for asserting their rights under AB 701. Employers need to know that there is a rebuttable presumption of retaliation if an employee suffers an adverse employment action within 90 days of requesting an employer for quota and performance data or reporting a violation of AB 701.
Contact a California Employment Lawyer
Contact a California employment lawyer if you need more information or believe an employer has violated AB 701.