Posted by Jake Finkel on July 23, 2023
Working From Home May Soon Become a Statutorily Protected Right in California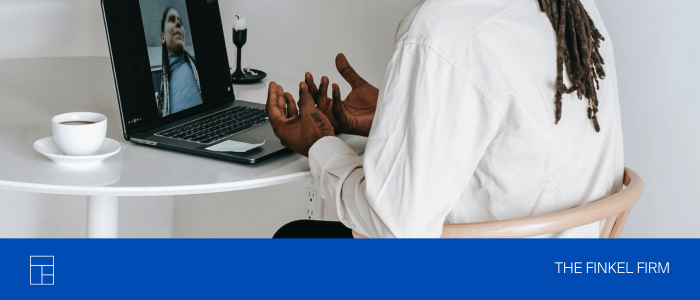 According to the California Fair Employment and Housing Act (FEHA), California employers do not have the right to discriminate against employees and job applicants because of protected characteristics. FEHA outlaws several practices and empowers the Civil Rights Department to take legal action against any employer who engages in unlawful practices. According to the Fair Employment and Housing Act, it is against the law for a California employer to refuse to reasonably accommodate a disabled employee or job applicant. The Act also states that it is illegal for an employer to refuse to work with the applicant or employee to determine effective reasonable accommodations after the applicant or employee requests a reasonable accommodation.
A recently proposed Bill, Senate Bill 731, seeks to offer more protection to California employees. If Senate Bill 731 is passed, employees working remotely would have the right to continue doing so until they are provided with advance written notice of the need to return to the workplace. Additionally, SB 731 would require an employer to include in the advance notice, at minimum, information about an employee's right to request to work remotely as a reasonable accommodation for a disability. SB 731 was first introduced by Senator Ashby on February 17, 2023. The Bill passed the Senate on May 25, 2023.
You may have started working from home after getting into an agreement with your employer. Or perhaps you started working from home because COVID-19 mandated that employees work from home. Whatever the case, if SB 731 is passed, your employer cannot require you to return to work in person unless they provide you with at least one-month advance notice. If SB 731 is passed, it would be illegal for your employer to require you to return to work without providing you the proper notice.
In regards to the information an employer should include in the one-month advance notice, the following is some of it;
You have the right to request that you are allowed to continue working from home if you have a disability. Working from home will be considered a reasonable accommodation.

Your employer will engage in an interactive process with you to determine if there are effective reasonable accommodations for your condition, including working from home.

Your employer will grant your request to work from home if you can perform all functions of your job while working remotely unless doing so would cause them undue hardship, alternative accommodation is available, or your condition is not considered a disability under the law.
After receiving employee requests, employers will be required to treat every request individually. Employers will be required to go through the interactive process with all employees to determine if an employee's condition qualifies as a disability. If a condition qualifies as a disability, the employer will be required to evaluate if remote work or another reasonable accommodation can be provided to the employee. An employer will only be allowed to refuse to provide a reasonable accommodation if the employee does not have a disability or if providing the accommodation would create an undue hardship for them.
Contact a California Employment Lawyer
Contact a California employment lawyer if you need more information on Senate Bill 731 or if an employer has unjustly denied you a reasonable accommodation.